UESA SAV participated in DARIAH Annual Event 2023 in Budapest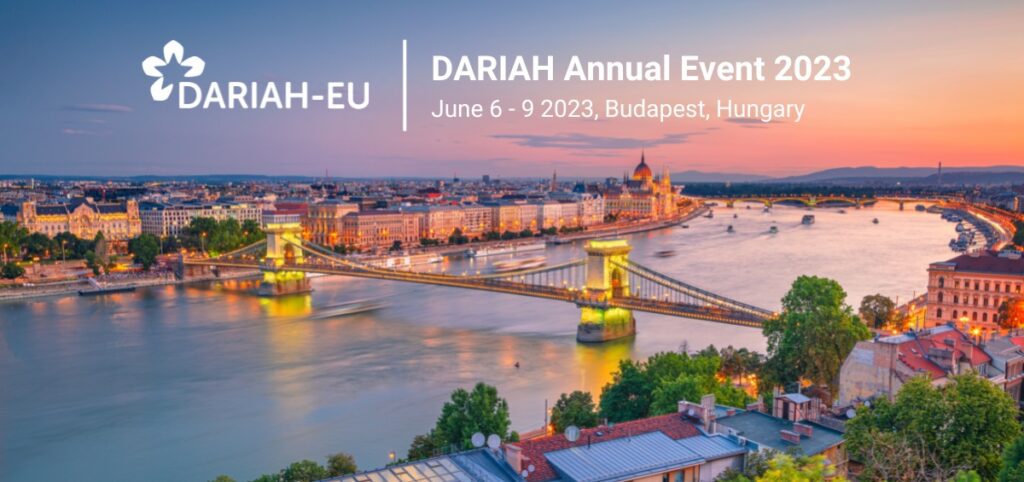 This internationally recognized annual conference organized by the European research infrastructure DARIAH-EU thematized three main topics: sustainable practices for data management and curation, experimental data spaces for cultural heritage and progress in digital methods of cultural heritage analysis.
In the poster session, our colleagues presented the Collection of Research Reports, its specification as an ethnological research collection, and the application of the main principles of thematic research collections in the process of computer processing and digital curation of this collection.
During the conference, the staff held official working consultations with DARIAH-EU representatives regarding the current status of the cooperative partnership with the IESA SAS, the organization of the fall event DARIAH Day Slovakia 2023, and Slovakia's potential full membership in this infrastructure.
Participation at the conference supported projects VEGA 2/0051/22 Technological and sociocultural contexts of material culture innovations: an ethnological perspective, and VEGA 2/0058/22 Revitalization of cultural heritage in public space as a reflection of global influences on rural and urban communities.
Poster: https://zenodo.org/record/8059450
Video: https://twitter.com/DARIAHeu/status/1666427487411109888?s=20  
Foto 1: DARIAH-EU
Foto 2: Tomáš Kubisa