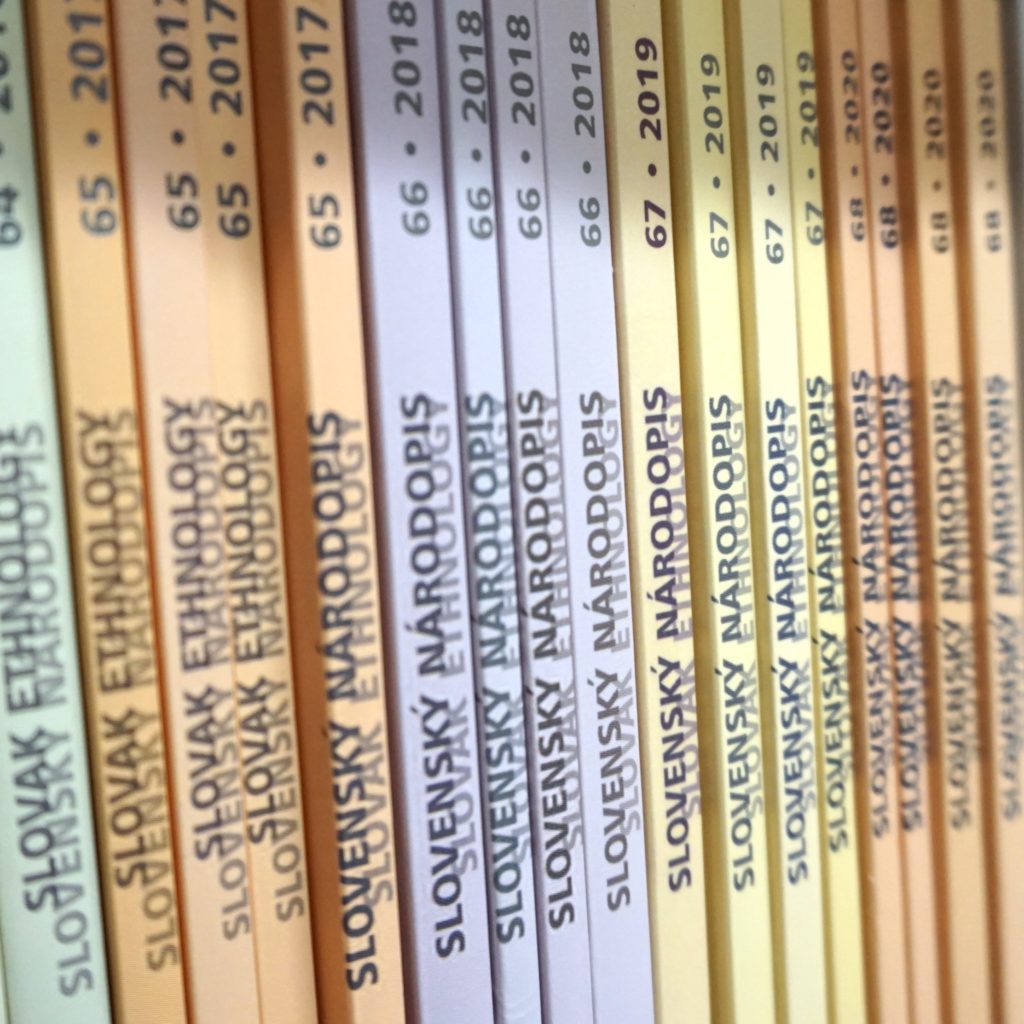 ISSN 1335-1303 (print)
ISSN 1339-9357 (online) 
Slovak Ethnology Journal
Institute of Ethnology and Social Antropology SAS
Klemensova 19
813 64 Bratislava 
Tel.: 02 – 52964707, ext. 107
e-mail:  slovensky.narodopis@savba.sk
 
The journal Slovak Ethnology is registered in the following databases:
The journal's scope are territorially oriented mainly to the Central European region. The papers published in the journal analyse social phenomena based on data obtained mainly by means of ethnographic field research methods. The journal editors prefer original articles of analytical, theoretical or synthesising nature, contributing to current debates in social sciences and humanities. In terms of topics, the journal focuses predominantly on the research of ethnic, national, confessional, age and gender differences which characterise late modern societies; on the research of social, cultural and economic transformations of European societies in the historic context (modernisation, post-socialist transformation, European integration, globalisation); on the research of folk culture, folklore, tangible and intangible cultural heritage in the European and global context; on the reflection of discussions in current theoretical and methodological trends in social sciences and humanities; and the history of scientific thinking. Besides problem-oriented scientific studies, the journal also publishes essays, discussions, book reviews, and book essays. The journal provides space for discussions of key issues in the social sciences, as well as for critical comments on the presented articles. The studies, essays, and debates undergo anonymous peer review by international experts.
4/2022 - Anthropological aspects of Recent Czech, Slovak, and Polish experience with secularism and nonreligion
Call for the papers for the special issue of Slovak Ethnology/Slovenský národopis, volume 70, number 4/2022, on the topic Anthropological aspects of Recent Czech, Slovak, and Polish experience with secularism and nonreligion.
The guest editors of the issue are Juraj Majo (Department of Economic and Social Geography, Demography and Territorial Development, Faculty of Natural Sciences, Comenius University in Bratislava) and Tomáš Kubisa (Institute of Ethnology and Social Anthropology of Slovak Academy of Sciences).
Each of these three Central Eastern European countries has been recently experiencing a specific relationship with the transformation of their religious landscape. The historical background of each of these countries still plays a decisive role in how they react to the retreat of the organized religion from various sectors of their societies. This societal transformation can have several aspects - such as increasing religious diversity, different levels of the decline of religious activities, or the emergence and establishment of various nonreligious and secular worldviews in society.
In a dedicated issue of Slovenský národopis / Slovak Ethnology, we would like to create a platform of diversified approaches and experience in the research field of nonreligion and secularism in Czechia, Slovakia, and Poland. We welcome theoretical and empirical studies related to the subject from these (but not limited to these) areas:
- lived experience of nonreligion, disbelief, and disaffiliation (ethnography of life trajectories);
- nonreligion as social identity (stigma or freedom from ideologies);
- secular and nonreligious landscapes (visible forms of disaffiliation in urban/rural spaces);
- ethnography of secular, atheist, humanist, or nonreligion societies and clubs;
- structural aspects of nonreligion and disbeliefs (gender, age, educational attainment);
- nonreligion, disbelief, disaffiliation in the time of the pandemic;
- theoretical approaches of nonreligion, secularism, and disbelief from the perspectives of social anthropology, religious studies, cultural geography, sociology, and others. (focussing on the Central Eastern region)
In addition to research articles, also essays and discussion papers are welcome.
Submission date for abstracts: June 15, 2022
Submission date for manuscripts: July 31, 2022
Language: English
Contributors are kindly requested to submit their abstracts and keywords directly through the editorial system of Slovenský národopis/Slovak Ethnology no later than May 30, 2022.
The selected manuscripts are expected no later than July 31, 2022. The text should not exceed 6,250 words or 45,000 characters, including spaces, notes and references, and should follow the Journal´s guidelines for authors.
The issue is outcome of the scientific project VEGA 2/0060/19 Ethnographic research of non-religion and secularism in modern Slovak society (life-trajectories and stories).
Main editor
Deputy editor
Editors
Regina Bendix (Univerzita Georga Augusta v Göttingene, Nemecko), Michał Buchowski (Univerzita Adama Miczkiewicza v Poznani, Poľsko), Dušan Deák (Univerzita Komenského v Bratislave, Slovensko), Ingrid Slavec Gradišnik (Slovinská akadémia vied a umení, Ľubľana, Slovinsko), Juraj Hamar (Univerzita Komenského v Bratislave, Slovensko), Hana Hlôšková (Slovenská akadémia vied, Slovensko), Miloš Hubina (Mahidolova univerzita, Bangkok, Thajsko), Gabriela Kiliánová (Slovenská akadémia vied, Slovensko), Ullrich Kockel (Univerzita Heriot-Watta v Edinburghu a Ulsterská univerzita, Veľká Británia), Sam Pack (Kenyon College, Gambier, Ohio, USA), Vladimir Penčev (Bulharská akadémia vied, Sofia, Bulharsko), Dragana Radojičić (Srbská akadémia vied a umení, Belehrad, Srbsko), Klaus Roth (Univerzita Ludwiga Maximiliana v Mníchove, Nemecko), Peter Salner (Slovenská akadémia vied v Bratislave, Slovensko), Martin Šimša (Národní ústav lidové kultury, Strážnice, Česko), Davide Torsello (Univerzita v Bergame, Taliansko), Zdeněk Uherek (Akademie věd České republiky, Praha, Česko), Jelena S. Uzeneva (Ruská akadémia vied, Moskva, Rusko), Helena Wulff (Štokholmská univerzita, Švédsko).
Digital archive of the journal
Guidelines for contributors
The editors accept manuscripts for consideration on the assumption that the texts represent original material, have not already been published or are not about to be published in another source. More detailed information about the guidelines for contributors, the rules for accepting manuscripts, the review process and the citation rules can be found below in the Download section.
The journal Slovak Ethnology/ Slovenský národopis is Open Access according to BOAI definition and the contributions are licensed under CC-BY. The content is freely  available on the public internet, permitting any users to copy and redistribute the material in any medium or format, read, download, copy, distribute, print, search, or link to the full texts of the articles, without asking prior permission from the publisher or the author. The content could be adapted for any purpose, even commercially. 
Slovak Ethnology requires the high standards of publication ethics and prevention of publication malpractice. It publishes ethics guidelines for the authors, the reviewers, the editors and for the publisher to follow. The journal accepts only original manuscripts which have been not published or submitted to another publisher before, should be written from stated authors, include no unlawful statements, do not infringe the rights of others, and quote the sources appropriately. The review process is anonymous. The reviewers should have no conflict of interest with respect to reviewed articles. The judgments should be objective. The editors and the publisher have to take all steps to ensure the quality of published articles. In case of problems, our editors work with the Publishing Ethics Resource Kit developed by Elsevier. More information on compliance with publication ethics and publication practice can be found below in the Download section.
SAP – Slovak Academic Press, s. r. o.,
Bazová 2,
821 08 Bratislava
e-mail: sap@sappress.sk