Volkskunde in den Diensten des Dritten Reiches : Deutsche Forscher und Forscherinnen in der Slowakei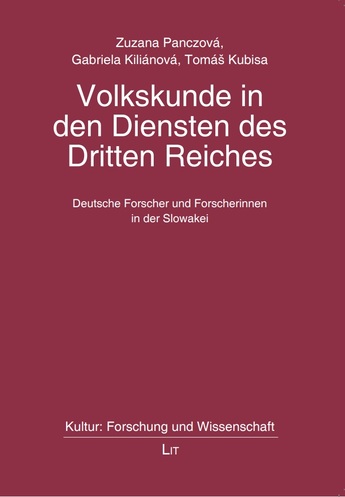 Publication of three co-authors from the Institute of Ethnology and Social Anthropology of the SAS v. v. i. focuses on the topic of the influence of ideology on social science research, specifically on efforts to use ethnography and related scientific disciplines by Nazi ideology in the 1940s. Using the example of the Institute for National Research in Kežmarok, which focuses on the German minority in Slovakia, it identifies the way of work and career fates of selected German researchers and their influence on ethnographic research in Slovakia.
In this context, the authors also examine the ideological context of the ethnographic research of the German minority in Slovakia during the Second World War. The book uses unique source collections of the Institute of Ethnology and Social Anthropology of the SAS, v.v. i., but also other institutions in Slovakia and abroad. The publication is an edited and supplemented edition of the electronic book Národopis na Slovensku v službách Tretej ríše (Ethnology in Slovakia in the services of the Third Reich), which was published in 2021 in the Slovak language. This edition both brings new information obtained through further research and in connection with the response to the Slovak publication, and at the same time communicates this knowledge to a German-speaking professional audience.
ethnography, folklore, ideology, Third Reich, Nazism, Institut für Heimatforschung, Franz. J. Beranek, Hertha Wolf-Beranek, Bruno Schier, Kežmarok