What Is a Holiday in the 21st Century in Slovakia?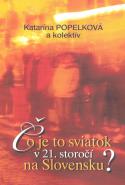 As a result of the fall of the Communist dictatorship in post-Communist Europe, large-scale transformation processes were initiated in this region. These processes showed national specificities in many ways, with holiday practice undergoing in-depth transformation as well. Holidays during the era of the Communist regime served also as a sophisticated ideological tool for a public demonstration of common ideology and unified society. After the fall of Communism, the holiday culture oscillated between the return to the traditions and fascination by the West (globalisation and Westernisation influences). At the same time, the need to redefine the history and culture of remembering arose, while in many post-Communist countries political parties and mainstream churches gained ground as important actors.
The publication, the first of its kind, presents the empirical results of the research on the holiday culture in Slovakia after 2000 by means of an interdisciplinary analysis of the ways of celebrating three key holidays – Christmas, Halloween, and the Anniversary of the Slovak National Uprising (SNU). A separate chapter observes the political aspects of the holiday legislation after 1993, when the Slovak Republic was born after the breakup of Czechoslovakia.
The publication documents how legally recognised holidays serve the state, the political camps, as well as the church as a flexible tool for advocating group interests. Civic participation in state holidays declines also because of the absence of a comprehensive and stable political discourse that would prove nationwide consensus with respect to the past (see the example of the SNU celebration). The celebration of Christmas as a religious holiday weakens to the detriment of its secular – community, commercial, and family – functions. The research on the Halloween as an expression of the globalisation and Westernisation of post-socialist societies has brought broader valid findings on the use of holidays as a marketing tool.
The book works innovatively with concepts such as the epidemiology of representations, ritualisation, symbolic violence of the state, etc. The basic research is complemented with on-line ethnography, media search, and content analysis of quantitative surveys. The applied approach to data analysis and interpretation created a basis for an international and interdisciplinary comparison of the conclusions.